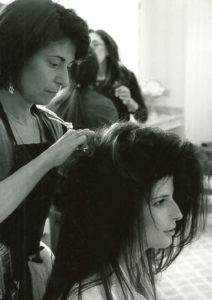 I am a NYC based hairstylist with 35+ years of experience in styling hair for weddings and special events.
Currently averaging 45 wedding a year and repeat clients for their special events, my business covers everything from Friday night hair to walking down the aisle or red carpet.
I also have a 25 year background in salon work, theater, store fronts, editorial and fashion shoots, runway hair and wig work.
The class is a 1 day intensive workshop, at Avellino Hair Salon 328 W 17 St (bet 8th and 9th Ave) or in your salon or work space. Classes in the salon will be the 1st and 3rd Monday of every month. Inquire here for scheduling,
I will be demonstrating on a manikin head while stylists execute on live models, or manikin heads you provide. I give you the freedom to explore your creativity while providing hands on individual guidance.
We will be collectively working on 1 down style with the sides swept up, and a high/middle/low bun. These are the 2 most common basic shapes.
This includes working on the basic but intricate skills of creating well balanced shapes, various curl/braid techniques, teasing, combing out, draping, and pinning hair in various ways to help the client achieve their vision.
We will also talk about how to make contacts, contracts, and set pricing.
Be ready with an idea of what you need to work on and list of questions of things you want to better understand.
Tools needed: Heads to work on (manikin or models), hand mirrors (very important), blow dryer, curling irons in various sizes, flat iron, hot rollers, tail combs, (comb out brushes if you want to try them), bobbie pins (closed) and hair pins (open), in both 2" and 3"- color does not matter, light workable aerosol hairspray, and smoothing products.
Having a "mother of the bride" type, a curly haired person, or bridal style incorporating clip in extensions will be important to learn, so if you feel that's where need help, feel free to target that when picking your model or manikin.
Costs: $350/ person 10AM-5PM
*Continuing education classes are tax deductible.
* Please note all materials are copy write protected therefore unlawful to duplicate or distribute without Tamara Bosworth's written consent.