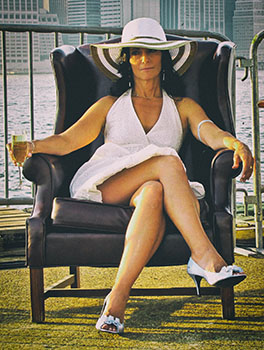 T

amara is a New York City-based hairstylist, wig designer, and head dress creator. Her elaborations have graced stage and screen, runway and print, as well as nightclubs and store windows. Her unique style has been seen internationally in Glamour, The New York Times, Lucky, City Search, The Knot, Town and Country, and Modern Bride, as well as in featured spots on Channel 7 News, E!, Metro Television, and many more.
Tamara has worked for several individual designers and has collaborated for major fashion shows and on Broadway theater throughout New York. In addition, she has transformed many local personalities and celebrities with one-of-a-kind designs for everything from private functions to the Easter Parade. From the natural to the outrageous and everything in between, hair and head dress are transformed into works of art. Her client list ranges from the girl next door to a few from the who's who list.
After having worked in notable salons for decades, Tamara now brings it all to you!. On location styling allows you to get ready for anything in the comfort of your own home, venue or even your office. Tamara loves cutting and coloring for individual clients and hair parties, but styling for weddings and special events is where Tamara's talent really shines. Many have Yelped that she "truly listens to her clients, and has hands of gold."
"Styling or 'dressing hair' as it is traditionally called, is my favorite. I have to complete their picture and to me it has to be more than just pretty hair. Whether it is a grand creation or a simple, beautiful drape of hair, it has to be spectacular!!"
Tamara feels it is important to share what we know and enjoys teaching styling techniques and the foundation of creative work to budding artists.Tamara
She is also currently in the process of designing a web based video product line to show people the tricks of the trade so you can recreate your own beautiful hair to remember!
A love of old Hollywood movies and inspiration by the colors and shapes in nature create the driving force behind her work.
"You can't beat Mother Nature, but you can push her. . . a little."