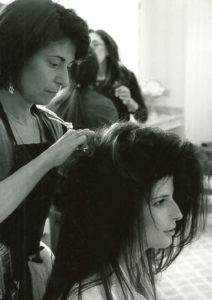 Tamara is passing her knowledge and experience on to you.
Tamara has over 35 years in salon, wedding, and the fashion industry. She now freelances, averaging 45 weddings a year; provides salon services to private clients, and styles clients for their special events. Her business covers every day hair, Friday night fun, to walking down the aisle or red carpet.
Classes are a 1, 2, or 3 day workshop, in your salon or work space, helping stylists master the fundamentals of event hair. This includes creating well balanced shapes, various curl/braid techniques, teasing, combing out, draping, and pinning hair in various ways to help them achieve their vision.
Learning the basic concepts and setting the foundation for creating beautiful, functional styles will help open your artist's imagination and instill a sense of confidence, for both, the stylist and the client.
You can grow your business by educating yourself and/or your stylists on the ins and outs of this intricate and recession proof, higher price point industry. Having a few talented in house artists will greatly increase your revenue.
Salon owners may also have the ability to send out stylists for "on location" work, which can double your weekend income and open up chair sharing for your Saturday/Sunday business.
Workshop Schedule
Day 1 – will be working of these basic but intricate skills on live models or manikin heads, you provide. We will be collectively working on 1 down style with the sides swept up, and a basic low bun. These are the 2 most common styles.
Day 2 – will be your stylists executing actual styles of their choice, while I give them freedom as well as hands on individual guidance.
Day 3 – we will continue to work in different styling techniques, and talk about how to make contacts, contracts, and set pricing. Have your stylist ready with an idea of what they need to work on and list of questions on things they want to better understand.
Pricing – 350 per day and 150 per person
Continuing education is tax deductible.